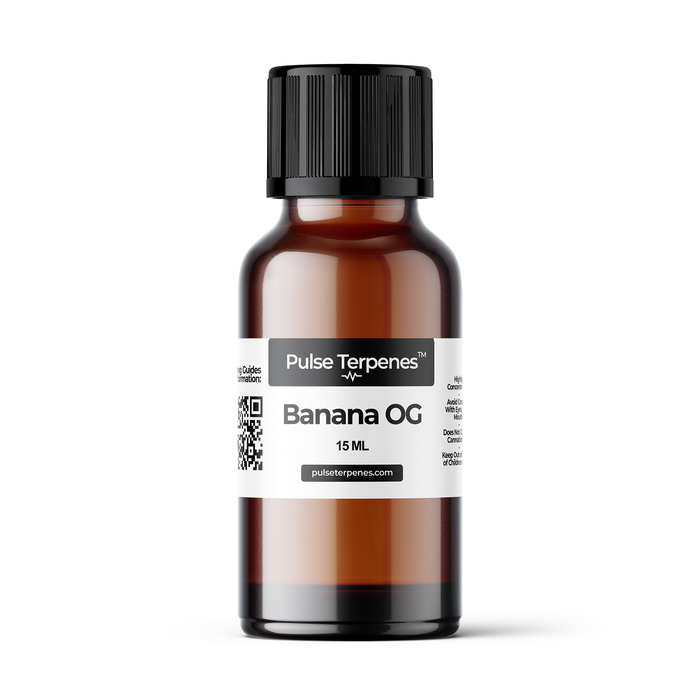 Banana OG
Original price
$20.00
-
Original price
$50.00
Expedited Shipping Not Available For This Item
Please select USPS Ground or UPS Ground at checkout.
Banana OG by Pulse Terpenes™ is a high-quality, pure terpene blend that captures the distinct and delicious flavor of the popular cannabis strain, Banana OG. This strain is known for its sweet, tropical aroma and relaxing effects, and the Banana OG terpene blend perfectly captures these characteristics.
The terpene profile of Banana OG includes myrcene, limonene, and caryophyllene, which contribute to its unique and complex aroma. Myrcene, the most abundant terpene in the blend, is responsible for the musky, earthy scent that is characteristic of many cannabis strains. Limonene, a terpene with a strong citrus scent, adds a bright, fruity note to the blend, while caryophyllene, a spicy terpene, adds depth and complexity.
In addition to its delicious flavor, Banana OG terpenes are also known for their potential therapeutic benefits. Myrcene, for example, has been shown to have sedative effects and may be helpful in reducing anxiety and promoting relaxation. Limonene has been linked to mood elevation and stress relief, while caryophyllene has been shown to have anti-inflammatory properties.
Whether you're looking to enhance the flavor of your favorite cannabis products or seeking the potential therapeutic benefits of terpenes, Banana OG by Pulse Terpenes™ is a top-quality choice. Try it today and discover the delicious and aromatic world of terpenes.