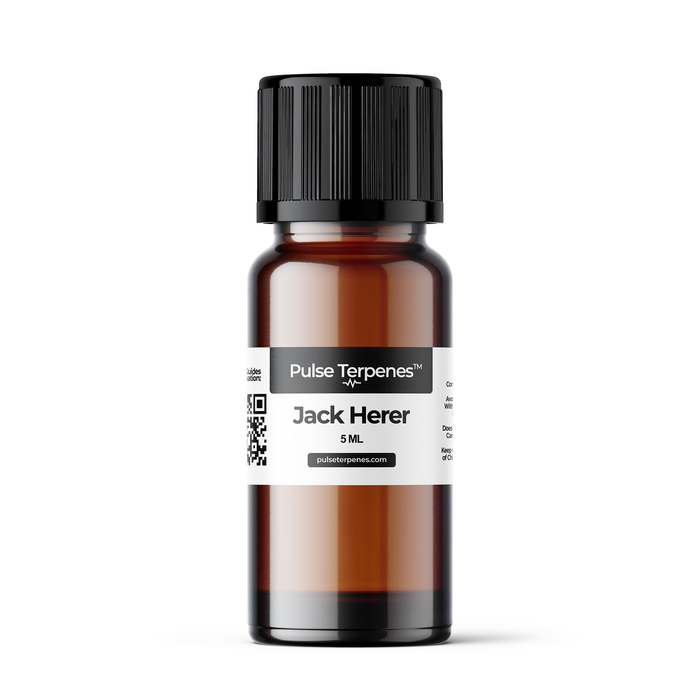 Jack Herer
Original price
$20.00
-
Original price
$50.00
Expedited Shipping Not Available For This Item
Please select USPS Ground or UPS Ground at checkout.
Looking for an uplifting and unique flavor profile? Look no further than Jack Herer terpenes by Pulse Terpenes™. Named after the legendary cannabis activist and author, Jack Herer is a sativa-dominant hybrid known for its energizing and euphoric effects.
Jack Herer terpenes are blended from the highest quality terpenes to provide a true representation of the strain's unique terpene profile. The dominant terpenes in this strain include myrcene, pinene, and caryophyllene, which contribute to its earthy and piney aroma.
Not only do our Jack Herer terpenes add a bold flavor to your products, but they also offer potential therapeutic benefits. Myrcene is known for its relaxing properties, while pinene is thought to have anti-inflammatory and bronchodilator effects. Caryophyllene is a potent antioxidant and may have anti-anxiety properties.
Whether you're looking to add some pep to your step or just want to elevate your products with a unique and authentic terpene profile, Jack Herer terpenes by Pulse Terpenes™ are a top choice. Try them out today and experience the power of pure, high-quality terpenes.